Vikesh, 44 – Father-to-two, IT manager & keen traveller who has stuttered since childhood, BRISBANE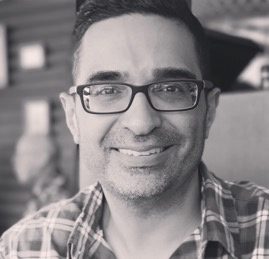 Vikesh, 44, Brisbane, is content with his lot in life. The happily married father-to-two works as an IT manager and harbours a passion for travelling. However, life has not always been so sweet for Vikesh.  
At 12 years of age, after relocating from India to the USA, Vikesh soon learned that he spoke differently to his peers. Over time, the smart and industrious student grew less inclined to raise his voice in class.
After sharing his concerns with his mother, Vikesh discovered to his surprise, that he had lived with a stutter all of his life – a disorder that his teachers had similarly confirmed.   
Over time, Vikesh grew accustomed to his stutter, and in adulthood, reached a level of acceptance of his disorder.
This is Vikesh's story.
"After recognising that I spoke differently to the other kids in grade seven, I became really conscious of my stutter," said Vikesh.
"I went to see a therapist in the '80s, when the doctors appeared to be focusing on the physical elements of stuttering and nothing else," Vikesh said.
Yet Vikesh always stuttered in the company of others. At highschool, he stumbled over every second word, and recalls having to bang on his desk, or tap his foot on the floor to get into a rhythm, in order to avoid stumbling over his words.
Over time, Vikesh employed different tactics to "manage" his stuttering. By the time he entered university, he had become proficient at masking his stutter.
"At university, if I felt like I was going to stutter, I would substitute a word to avoid stuttering. When it came to any words that I couldn't change, such as my name or address, I would try to ignore the topic, or say nothing at all.
"If I was with some friends, and we were ordering pizza or the like, and I knew I would have to give them my name and address, I would often invent excuses to avoid having to speak on the phone. I even hid in the bathroom at times until someone else made the order," said Vikesh.
After university, Vikesh moved into various sales roles, and for close to two decades, worked as a salesman delivering regular presentations.
"Throughout my life, I've delivered many sales presentations. I used to work so hard to conceal my stutter, that I was often successful, but it was an exhausting thing to do," Vikesh said.
At 28 years of age, Vikesh finally chose to disclose his stuttering to others.
"Up until 28 years of age, I chose not to talk to anyone about my stuttering. When I finally mentioned it to my mum, my friends and others, they all said they were very much aware of it, but it had become a taboo topic, so no one chose to discuss it.
"In hindsight, I think that by hiding my stutter, I was actually giving it more recognition than it deserved," said Vikesh.
"My stutter is part of who I am, and at the time, I knew I needed to embrace it."
Over the years, Vikesh has attended many local and international conferences, at which he has met people from all walks of life, who too, like him, live with stuttering. Exposure to others who stutter has led to Vikesh's acceptance of his disorder.
"These days, I no longer try to hide my stutter. But if you asked me whether I stuttered at the end of today, I wouldn't be able to say for sure that I did or not. I just choose to get on with things, and to not think about it.
"When people do notice something, I choose to be open with them, and to acknowledge my stutter," Vikesh said.
Indian-born Vikesh has a distant uncle who stuttered. However, up until recently, stuttering was a taboo topic in India, so none of his relatives to date have spoken openly with Vikesh about his stuttering.
"I think there's something in our genetic wiring that contributes to stuttering. But I'm always left wondering, when I'm alone, why my vocal chords can make the correct sounds, and there's no stumbling or stuttering. Perhaps genetics and the wiring go much deeper than just speech," said Vikesh.
Vikesh is participating in the NHMRC Centre of Research Excellence for Speech and Language 'Genetics of Stuttering Study', aiming to identify the genetic contributions of stuttering. He hopes his contribution will make a difference to those with lived experience of, or a genetic predisposition to, the disorder.
"I support any research that's designed to raise awareness of, and ultimately crack the genetic code of stuttering.
"Stuttering shouldn't be taboo," Vikesh said.
"If my participation helps researchers to unravel some burning questions about stuttering, it will be very worthwhile."
ends#